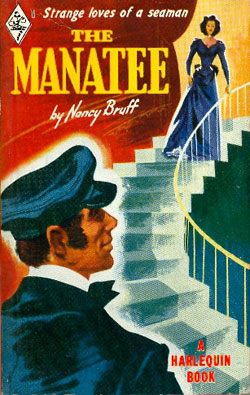 I thought it somehow fitting to find a beginning point for the industry I'm rather devoted to buying, consuming, devouring–well, you get the idea. 😉 One of them anyway. Originally published as A John Crowther Publication in London in 1946, The Manatee by Nancy Bruff was republished in paperback as Harlequin #1 in 1949.
So far the only description I've found is from an ad on eBay that says it's taken from the back cover:
This robust, powerful novel is the story of Jabez Folger, savage, romantic man of the sea, with a sinister secret in his past. Against the colourful background of Nantucket in its great whaling days, Nancy Bruff has set this bold, sweeping drama of vibrant love and corrosive hatred.

On Jabez Folger's first whaling voyage he had a dark and evil experience that changed and embittered his whole life. In a rather softened mood, he courted and married Piety, a gentle Quaker girl-then deliberately, viciously, murdered her love. Born of this strange union, conceived in love and hate, their children turned to Flowery Shrine, their half-caste South Sea island servant, for the love and understanding they craved.

Folger's vindictive cruelty brought about his ruin, but in so doing freed him from the evil demon that possessed his soul.

The Manatee is a vivid, exciting and compelling tale, written in lusty, vigorous prose, yet with exceptional power and beauty, played out against a setting of sea, sky and fabulous island.
Anyone know whether this is in fact back cover copy and, also, whether this is a romance as we think of them or even a close approximation? I do know that not all of Harlequin's earliest books were romances or even claimed to be. It took a couple of decades for them to settle into that label full time. And what they called romance then–well, definitely not what we'd call romances every time today. More on that in coming weeks.
As a bonus, here's what I believe is the original hardback dust cover. It's a curious image, too, because I did run across one reference to the captain being obsessed with his ship's figurehead but I thought they were talking about another book the author wrote. I could be wrong. Does that look like obsession to you? o.O